Sessions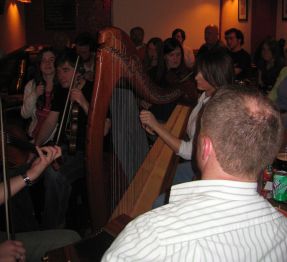 Sessions are popular in the Isle of Man. Most sessions play a mix of music, with some favouring Manx or Irish or singing over instrumental. Everyone is welcome and start times vary!
Manx
LAST FRIDAY of the month from 9pm Kiaull as Gaelg (Music & Manx) at the Albert, Port St Mary.
SATURDAYS occasional from 9 or 10pm White House session, Peel.
General
TUES 8pm Singaround at The Manor, Douglas
WED 8.30pm Trad Session at O'Donnell's, Douglas
THURS 8pm Singing session at R.A.O.B. (Buffs) Club, Ramsey
FRI 8pm Trad session at The Mitre, Ramsey
FRI 8pm Trad session at the Colby Glen
Last FRI of month 9pm, Kiaull as Gaelg, Albert, Port St Mary
First SUN of month 12.30pm Trad session in Laxey Sailing Club
Third SUN of month 12.30pm Trad session in Ginger Hall, Sulby