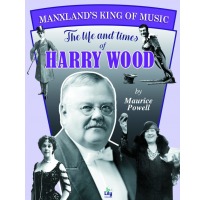 The Life and Times of Harry Wood - Manxland's King of Music
£16.00
By Maurice Powell (2018)
Harry Wood was the most important musical director to have lived and worked on the Isle of Man and his career takes us through more than fifty years of the island's entertainment history. He was at the centre of Manx musical entertainment and conducted for many great variety and concert aristes.

From the 1880s until the 1930s the Isle of Man was the premier holiday resort of choice for thousands of visitors from the northern industrial towns, the Midlands and Scotland. In terms of veriety and excellence of entertainment on offer, the island punched well above its weight. Douglas became known as 'the home of popular song' and the latest dance crazes were introduced at the great entertainment venues of the Falcon Cliff, the Palace, the Derby Castle, the Marina Pavilion and the Villa Marina.

What emerges from this book is what it was like to be a holiday maker on the island during the Victorian and Edwardian eras and those now distant, colourful and hectic summer seasons during the racy nineteen twenties and thirties, when the ever increasing threat of war failed to diminish the holiday experience for thousands of visitors to 'Pleasure Island'.