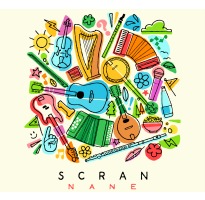 Scran is made up of some of the most talented young traditional musicians in the Isle of Man.
'Nane', Manx Gaelic for number one, is Scran's debut album.

Scran has grown out of the Manx music youth movement, Bree, which is organised by Culture Vannin, and this 'Bree Supergroup' was set up primarily to develop group-work skills and to provide performance opportunities. Led by mentor, Paul Rogers (Mabon, Strengyn & Fecktones), the Scran members are aged between 13 and 18 and include BBC Radio 2 Young Traditional Musician of the Year 2018, Mera Royle on harp.

CD £10.00 from Culture Vannin
Digital album £7.00
Translation of Manx sleeve-notes