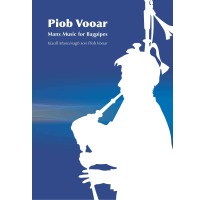 Piob Vooar - Manx music for Bagpipes
£10.00
Piob Vooar - Manx music for Bagpipes.
Featuring 30 Manx songs and tunes, along with 9 two-part harmonies, the book will be a useful addition to the repertoires of solo pipers and pipe-bands alike. It includes well-known Manx tunes such as Ellan Vannin, Manx Fishermen's Evening Hymn, Mylecharaine's March and Eunyssagh Vona, along with more recently composed Manx melodies, such as Kinnoull and Irree ny Greiney, which have already become popular with pipe-bands in Scotland.
The music has been transcribed and arranged for Highland bagpipes by David Shedden, a graduate of the Royal Conservatoire of Scotland and a highly respected piper in Scotland. The book was edited by Dr Chloe Woolley, Manx Music Development Officer for Culture Vannin with the assistance of Finlay MacDonald, Head of Piping Studies at the National Centre of Piping in Glasgow. The book has been launched in conjunction with the Isle of Man's pipe-band, Ellan Vannin Pipes and Drums.
Listen and learn some of the pieces performed by Neil Clark on Falkirk Piping YouTube