Marlene Hendy & Dilys Sowrey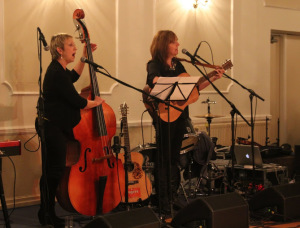 Vocal duo Marlene Hendy and Dilys Sowrey have been singing together since 1992, when they had their first success in The Manx Music Festival with "Pie Jesu".
Marlene was a member of legendary folk group, The Mannin Folk (famous for "The Laxey Wheel" and other Stuart Slack songs) and Dilys is well known as a solo singer who performs a wide range of genres.
Over the years Marlene and Dilys have entertained far and wide, sharing many successes, magical musical moments and providing themselves with plenty of material for hilarious anecdotes!
They have played at Yn Chruinnaght Celtic Gathering and other festivals for many years and were a popular act at the Manx Pavilion at Festival Interceltique de Lorient 2015.
Their debut album is 'Fy Yerrey!' (trans. at last!) - a collection of their favourite songs
More Manx Bands - Possanyn