Claasagh harp ensemble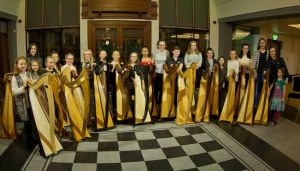 Claasagh is a group of Manx harp students who learn from the inter-Celtic harp specialist, Rachel Hair.
Supported by Culture Vannin, Rachel Hair teaches the Island's best and most promising harp students each month at Culture Vannin in St. John's. It is from these lessons that Mera Royle emerged to win the Young Folk Musician of the Year award in the BBC Folk Awards 2018. However, Mera is just the leading pupil in a large number of other fantastic musicians who we can look forward to hearing more of in the future.
Claasagh: Manx Harp Group (2018) from Culture Vannin on Vimeo.
Lessons for school age students are organised by the Manx Music Development Officer for Culture Vannin. More information here
More about Rachel Hair can be found here: rachelhair.com/
More on Mera Royle can be found here: facebook.com/MeraRoyleHarp/
Photo by Jiri Podobsky 2018
More Manx Bands - Possanyn