Ellan Vannin Pipes & Drums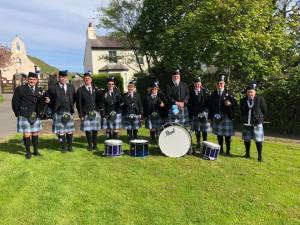 BAND HISTORY
The band was originally formed in 1984 by a small group of enthusiasts, and was then known as the St. Andrews Pipe Band. In 1988 the name was changed to the Cair Vie Manx Pipe Band. 'Cair Vie' is Manx Gaelic for 'fair wind' or 'fair passage'. There was another change in name when it was decided in 1998 that the band should become known as: 'Ellan Vannin Pipes and Drums', as it is still known today.
At the present time there are about a dozen regular pipers, with a Drum Corps of several snare, tenor and bass drummers, who share the different drumming disciplines.
Band rehearsals are at Braddan School every Tuesday night during term time starting at 7pm until 9pm – Established players & beginners are always welcome
The Band originally wore the Ancient Gunn tartan. This tartan has an association with the Isle of Man in that the Gunns claim descent from Guin, son of the Norseman, Olaf the Black (d.1237) who was King of Mann and the Isles. The Clan Gunn Badge still shows the 'Three Legs of Mann' to this day.
In 1999 the band changed to wearing the 'Manx National Tartan' designed in 1946 by Patricia McQuaid.
There are about a dozen listed 'Manx' Tartans, but the one worn by the band is quite unusual in that it consists of Seven Colours. Most Tartans have between three and five colours. The popular 'Laxey Manx Tartan' has six.

The seven colours are said to represent:

The Light Blue of the Sky
The Dark Blue of the Sea
The Green of the hills & valleys
The White of the Cottages
The Purple of the Heather
The Yellow of the Gorse in bloom
The Red of the flowers of the Fuchsia
More Manx Bands - Possanyn