Manx dance with me - new book by Joan Cowell
Wed, 30 Nov 2022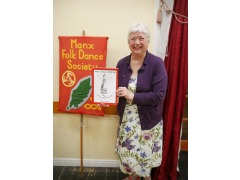 MANX DANCE WITH ME
by Joan Cowell
At last, I have done it!
For many years, I have been creating dances, while a Member, since 1971 and Chairman of the Manx Folk Dance Society (MFDS), from 1981 until 2017. Luckily, I had put them on to my computer so they would not get lost. Along with the other dancers, I created many new dances based on Traditional steps and figures. Yn Chruinnaght Festival was a good 'push' for us, as there was a class for a new dance. We tried to come up with an entry for this each year for many years, – with the occasional success! Sometimes our inspiration was an imminent event or celebration.
For a while I had contemplated putting these new dances into a book, but wondered if anyone would be interested, especially as many had never even seen the light of day or been tried.
After the decision to end the Manx Folk Dance Society, it seemed appropriate to record some of our dances. Luckily, when I discussed this with my friend, Tricia, a friend and past dancer, she encouraged me to progress the thought! Culture Vannin were also very encouraging – and so here we are! Now my new book, "Manx Dance With Me", is published.
Some of these dances in the book were performed by the Manx Folk Dance Society – some many times, some only one in a Yn Chruinnaght competition. The rest, I throw out as ideas for people to use and/or adapt as they see fit, I do hope some of them will get 'performed! The only thing I ask is that if they are danced or if they have influenced a dance, that some credit is given to me and/or the Manx Folk Dance Society.
Something I should perhaps explain is that when writing the instructions, I inverted the sets, so the 'TOP' of the set is at the base of the diagram. This may seem strange to some people, but talking to other dance teachers, they said that this way, when they stand at the 'Top' of the Set, they see on paper what they see in front of them, without having to turn the instructions around (either mentally or physically) to check.
I also highlighted many words with an Initial Capital Letter, as I know that, when reading instructions, it is easy to become 'bogged-down' in words and it can take a while to get to the 'nitty-gritty' – so I hope this will help to get a quick look at the important, real content of the instructions.
I am humbled by the financial support I am receiving from Culture Vannin and hope the book lives up to expectations!
I also want to thank the Staff at Culture Vannin, for their advice and verbal support.
I must also thank Quine & Cubbon Printers for their help and advice in preparing and printing the Book.
Thanks go to Tricia Craig for her support, advice and especially her endless encouragement, which she thinks was nagging, but it wasn't - it was the "push" that I needed.
And finally, a big thank you to the members of the Manx Folk Dance Society for all the collaboration, support, travels, enjoyment and fun they have given me over the years.
For your information from 30th November 2022, the Book will be available to buy from the Manx Museum, House of Manannan, as well as the Bridge Bookshops – both Port Erin & Ramsey, for £10.00.
Joan Cowell
November 2022