MAKE MUSIC DAY 2022 LAA JANNOO KIAULL
Wed, 06 Jul 2022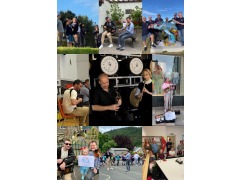 The Isle of Man joined the rest of the world in celebrating the 40th anniversary celebration of 'Make Music Day' or 'Laa Jannoo Kiaull' on June 21st. Launched in 1982 in France as Fête de la Musique, Make Music Day is held in more than 120 countries.
As part of the international "The Global Folk Challenge", Manx youth group Bree met in the Henry Bloom Noble Library in Douglas to film a German song called "Nun will der Lenz uns grüßen"
The challenge of learning the Manx Gaelic song, "S'mie Lhiam Cappan dy Hey", was taken up by mother and son Amanda and Myles from Massachusetts, USA. Here is Bree also singing "S'mie Lhiam Cappan dy Hey".
Also on the day itself, Dr Chloe Woolley from Culture Vannin took visiting Breton accordion Thomas Moisson and Manx musician David Kilgallon to perform for several schools, before playing live on Manx Radio and then outside the Breizh Vannin Creperie in Douglas. Some Manx musicians decided to try Make Music Day's 'On Location' theme, where they were tasked with performing a song or tune at an iconic or interesting location. Mine's a Shanty chose to perform "Roll Down" and "Chicken on a Raft" next to the pirate-themed dolphin sculpture at Douglas Head, and Tiffany Kerruish & Peddyr Cubberley performed a couple of original tunes by Peddyr; "The Buzy Dizzy / Tiffy Troailtagh" in the iconic Barrel Room of the Fynoderee Distillery in Ramsey.
Sravanti Mazumdar released her version of 'Ellan Vannin' to celebrate the day too.
Un Choraa Manx Gaelic choir, which consists of children and parents from the Bunscoill Ghaelgagh chose to stage a flash-mob performance at the start of school day, Ruby Biskee Taylor sang in Strand Street and The Mannic Ukes joined the Jukulelians at Jurby Community Centre to all perform together!
Find out more: www.facebook.com/makemusicdayIOM