Big Bree Workshop Weekend
Wed, 29 Sep 2021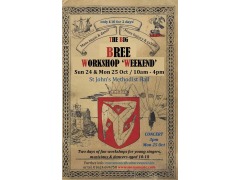 The 15th annual Big Bree Workshop Weekend is on the horizon and will take place on Sunday 24th & Monday 25th October in St Johns Methodist Hall.
Voluntary tutors will teach Manx traditional songs, music and culture through vocal and instrumental techniques, group playing, arranging, songwriting and composing techniques, Manx dancing and drama. The use of Manx Gaelic is encouraged throughout and all of the students will perform in a showcase concert on the Monday afternoon for family and friends. This year's theme will be the 125th anniversary of one of the most influential Manx music books to date: Manx National Songs which was published in 1896.
Bree was founded in 2006 by Culture Vannin as a youth education movement which celebrates Manx music and dance [read about the first one here: KMJ, No 2006]. Designed for school years 6 – 13 (ages 10 – 18), Bree, which is Manx for 'vitality', aims to both introduce and develop Manx culture within the Island's young musicians and dancers and ensure that it remains a living tradition. This is realised through this annual weekend of music and dance workshops held in connection with the IOM Youth Service, monthly music sessions, competing in the Manx Folk Awards, performances at community events, and busking in aid of local charities.
As an umbrella group which includes members from all of the Island's secondary schools plus year 6 students from the primary schools, Bree provides opportunities for youngsters who already sing, dance or play an instrument and are interested in Manx culture, to socialise, share ideas and learn from more experienced musicians. Older students can also audition for a part in the band, Scran; an off-shoot of Bree who perform regularly, have an album called 'Nane' and a new release in the pipeline called 'Jees'! All young people are welcome to get involved, and the 'Big Bree Workshop Weekend' is the ideal place to start!
The application form is available here: Bree Weekend 2021 application form
Further details are available form: manxmusic@culturevannin.im or www.manxmusic.com
A taste of the weekend can be gained from the photos or concert film of last year, or the overview film of previous years, such as 2017.