MANX FOCUS FOR YN CHRUINNAGHT CELTIC GATHERING 2021
Wed, 26 May 2021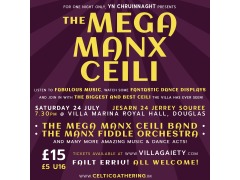 MANX FOCUS FOR YN CHRUINNAGHT CELTIC GATHERING 2021
Yn Chruinnaght Celtic Gathering (19 - 25 July) has a few special tricks up its sleeve for its 44th festival.
With uncertainties over groups from the other Celtic nations being able to visit and covid-19 border restrictions, organisers have decided to keep it mostly Manx this year and add in some special events. Headline acts this year include a variety of popular Manx acts. Legendary Manx folk singer Christine Collister will host an evening with her band, and there will be concerts from Gaelic gypsy-jazz band Clash Vooar and the inimitable The Mollag Band who will celebrate their 30th birthday this year.
Other acts include young trad bands Scran and Share na Veg, dance groups Perree Bane, Rhythm of Bulgaria and Ny Fennee, new Celtic music from Tree ny Kiare and the Owen Williams' trio, and Gaelic songs from inter-generational choir, Un Choraa.
As well as this stellar line-up of concerts in Peel, the committee are taking the festival
to the Villa Marina in Douglas for a one night only 'Mega Manx Ceili', sponsored by the Isle of Man Arts Council and Digital Group (Sat 24th July). In between the ceili dancing, this special event will feature choreographed displays from many of the Manx folk dance groups, and the premiere performance of the Manx Folk Orchestra. This new ensemble of over 30 fiddle players is conducted by Katie Lawrence and their performance will be the highpoint of a new project organised by Culture Vannin's Manx Music Development Officer, Dr Chloe Woolley.
Another one-off special event to close the festival sees Yn Chruinnaght join forces with Manannan's Winterfest to present a summer evening concert, dubbed 'Oie Houree' (Sunday 25th July). Directed by David Kilgallon and sponsored by Thornton Chartered Financial Planners, this final evening in the Centenary Centre will star Manannan's Winterfest House Band along with a medley of special guests.
Yn Chruinnaght are also delighted to be helping the Manx Folk Dance Society celebrate their 70th anniversary, and long-standing member Joan Cowell will deliver the annual Ian O'Leary lecture about the history of the group (Thursday 22nd July).
In addition to the Centenary Centre concerts, there will be a family friendly 'Giense' (Manx for party) in Peel Masonic Hall (Friday 23rd July), a Manx language seminar, school visits, workshops and sessions, and the popular Saturday Gathering in the Cathedral where festival-goers can shop at the artisan craft fair, enjoy delicious food and drink, including authentic Breton crepes at the "Spirit of Lorient" mini-pavilion, and sample an afternoon of free entertainment in the Cathedral and beautiful grounds.
As in previous years, the festival is extended to Douglas through the working week for the folk and folk sessions at Noa Market Hall sponsored by RL360, where customers can enjoy eating Celtic fare accompanied by live music. Sunset Lakes in Peel has also come on board as a new venue where there will be lunchtime entertainment on Wednesday and Thursday, and the centre will provide the backdrop for an afternoon of Celtic music, dance, language and culture on Sunday 25th July.
The festival is grateful for the continued support of Culture Vannin, Thornton Chartered Financial Planners, RL360, Digital Group and the IOM Arts Council.
Yn Chruinnaght Celtic Gathering tickets range from £5 for kids to £15 (available online or from Celtic Gold in Peel), with a Festival Pass for all Peel events for sale online at £45: www.celticgathering.im with Mega Manx Ceili tickets priced £15/£5 from www.villagaiety.com