Isla Callister does Manx Mondays!
Wed, 17 Feb 2021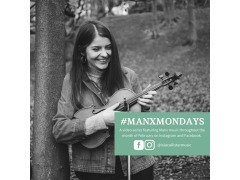 Isla's Manx Mondays! Manx fiddle player, Isla Callister has just launched her #ManxMondays, which is a new series of videos featuring Manx music that'll be posted every Monday throughout February on her Instagram and Facebook page. Isla has kicked off the series with a melody most suited to today - the first of February:
She said: "The 1st of February marks Laa'l Vreeshey (St. Bridget's day) on the Isle of Man, and to celebrate I decided to do a wee arrangement of a traditional Manx Gaelic song about St.Bridget. I have loved this song and melody since I can remember, and have so many fond memories of all the traditions that come along with it."
Isla, who is based in Glasgow, was Musician of the Week for the BIT Collective recently www.facebook.com/ thebitcollective and she plays with the fantastic band TRIP who have a debut album coming soon. Their keyboard player, Michael Biggins just scooped the 2021 BBC Scotland Young Traditional Musician of the year!
Isla also recently joined Chris Gray for his 'CC 2021 Tune a day 2' with two Manx jigs; My Shenn Ayr and Haste to the West: https://chrisgraymusic.com/