Eisteddford going ahead
Wed, 17 Feb 2021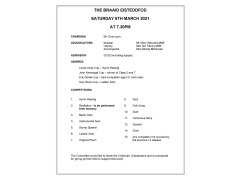 If you'll be missing the Guild this year, why not go along to the Braaid Eisteddfod for a night of great entertainment.
Being held on Saturday 6th March, it's a great opportunity for performers to take to the stage. Proceedings get underway at 7.30pm under the guidance of Chairman Chris Lyon and, with participation from the audience, a great evening's entertainment is guaranteed.
The experienced adjudicators Allan Wilcocks (musical) and Dot Tilbury (literary) will give all performers constructive and encouraging feedback and talented official accompanist, Wendy McDowell, will be there to support the singers and is able to play even the most unusual pieces of music.
Come along and enjoy one of the longest standing traditional evenings of good Manx entertainment. Entry is just £5 and includes supper.