BOALDYN NEW COMPOSITION RESULTS
Wed, 28 Apr 2021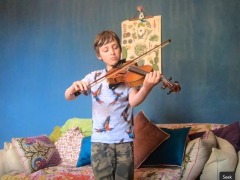 The Manx traditions for May are being celebrated in a series of new songs, tunes and dances.
Culture Vannin are delighted to unveil the results of a competition which saw a wide range of entries in categories for both adults and children to compose new pieces inspired by the Manx traditions of May - Boaldyn.

The theme was a particularly exciting and rich one, bringing out a wide variety of entries, as the panel explained:
"The Boaldyn celebrations are full of 'bree' with bonfires and leaping about and the Battle of Summer and Winter, so some songs will be lively and fun to reflect that aspect. There is a focus on the natural world with beautiful flowers and the coming of summer, which might be reflected in more lyrical pieces. The flowers and croshyn keirn are used to ward off the effects of witches and spirits, so there is a darker side, though the point is that it is defeated by the power of Boaldyn. Summer is arriving, winter is past and people are outside celebrating".
The adjudication panel consisted of Culture Vannin board member Clare Kilgallon RBV, Director of Culture Vannin Dr Breesha Maddrell and Gaelic scholar and composer, Bob Carswell RBV.
Winner of the new tune category was David Speers with his lively reel, "Car Laa Boaldyney" (May Day Reel). In contrast, the runner-up was Isla Callister with her lyrical waltz "Aalid yn Arree" (Beauty of Spring). Frank Joughin clinched the top prize for the under 16's new tune, with his waltz, "Y Voostey yn Arragh" (The Awakening of Spring), with runner-up prizes going to Kinley Clugston and Aalish Kilgallon.

Paul Roger's "Arrane Oie Voaldyn" won the adult song category; a catchy Gaelic song which explores the pagan folklore and ceremony associated with May in the Isle of Man, and the runner-up prize went to Aalin Clague for "Tar gys y Ghrian"; a song that celebrates the parting of the clouds and rain, and the welcoming of the sun.
Heike Perry won the new dance category with her solo dance around the May fire called "Mygeayrt yn Aile", and Lowenna Joughin's "Yn Daunse jeh ny Blaaghyn Bwee" [The Dance of the Yellow Flowers] won the under 16s category, followed by runner-up Cara Rowles and her solo dance, "Benrein ny Boayldyn" (Queen of the May).
Dr Chloe Woolley, Manx Music Development Officer for Culture Vannin said:
"Whilst we were all in lockdown, we thought it would be a good opportunity to create new works based on 'Boaldyn', which is Manx Gaelic for May. The Island already has so much folklore connected with this special month, so there is an abundance of inspiration. Hopefully these new creations will become part of the living tradition in the Isle of Man."
The adjudicators were bowled over by the standard of the entries, and Bob Carswell added:
"The good side of a competition like this is that it can make us focus our efforts and do in a more organised way something which we already do or which we have thought of but have never quite got round to... What these entries demonstrate is that there are highly-talented musicians in the Island with a flair for composition."

Adults winners received £150 each and the children £50. All of the new creations will be gathered together and shared publicly as the 'Boaldyn Collection' in the future, but for now, enjoy the prize winning entries here: …..

NEW TUNE Car Laa Boaldyney by David Speers AUDIO
NEW TUNE U16 Y Voostey yn Arragh by Frank Joughin VIDEO AUDIO
NEW SONG Arrane Oie Voaldyn by Paul Rogers VIDEO
NEW DANCE Mygeayrt yn Aile by Heike Perry VIDEO
NEW DANCE U16 Yn Daunse jeh ny Blaaghyn Bwee by Lowenna Joughin VIDEO

More information about Boaldyn