Castletown Metropolitan Silver Band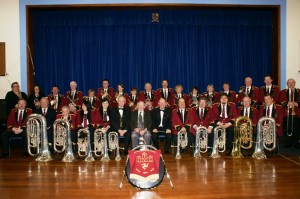 We are a community brass band, providing entertainment at various venues, Island wide. We perform more than 50 engagements each year. The band was formed in 1896.
CMSB include in their repertoire a collection of Manx Music: Two selections of Manx Airs, Hymn Tune Crofton, Manxland March (includes Ramsey Town & We'd better wait a while my dear) Kelly, Ellan Vannin, Carol of the Kingdom and many others which were arranged for the band by Major J E Thirtle (previously MD CMSB) Tom Stewart Cubbon,(previously MD CMSB) and Les Hartill (previously band member CMSB). We also have a new March called "Rushen Castle" composed by Ian Astill (previously MD CMSB and currently Deputy MD and band member)
We are always on the lookout for new players, particularly cornets, trombones and basses. Instruments and tuition are provided free of charge.We also have a training band, Balley Cashtal Brass, providing a supply of players for CMSB. We accept players of all ages, instruments and tuition are provided free of charge, all we ask is for commitment.
We accept potential players of all ages, providing free instruments and tuition.
More Other Ensembles and soloists