Laa Jannoo Kiaull Make Music Day 2022
Wed, 15 Jun 2022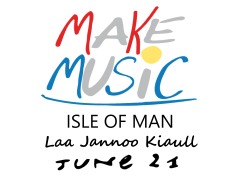 Manx musicians and venues are invited to get involved in the 40th anniversary celebration of 'Make Music Day' this June 21st. Launched in 1982 in France as the Fête de la Musique, Make Music Day is now held on the same day in more than 1,000 cities in 120 countries.
Completely different from a typical music festival, Make Music Day is open to anyone who wants to take part. Every kind of musician — young and old, amateur and professional, of every musical persuasion — pours onto streets, parks, plazas, and porches to share their music with friends, neighbours, and strangers. All of it is free and open to the public. Just tag #makemusicday to be part of the international party.
Dr Chloe Woolley from Culture Vannin represents the Isle of Man's own version of Make Music Day; 'Laa Jannoo Kiaull' and she will be taking visiting Breton accordion Thomas Moisson, who is already very familiar with Fête de la Musique, to perform in some schools on the 21st, before visiting Manx Radio to treat listeners to some live music. In advance of Make Music Day, Culture Vannin's youth group Bree will meet on Saturday 18th June in Henry Bloom Noble Library in Douglas to film a song as part of an international exchange project called "The Global Folk Challenge", where participating musicians share a folk song from their country and learn one from another. Manx song, "S'mie Lhiam Cappan dy Hey" has been submitted for the Isle of Man and Bree students will be learning and recording a German folk song. Any singers or instrumentalists aged 10 – 18 are welcome to come along at 3pm and get involved.
Some special themes that may inspire Manx musicians this year could be performing a French song in recognition of the 40th anniversary of Fête de la Musique; or taking to the yoga mat with some live musical accompaniment to combine International Yoga Day and Make Music Day! There is also this year's 'On Location' theme, where musicians are being encouraged to live-stream or share a photo of themselves performing at an iconic or interesting location. Chloe suggested some fun locations around the Island: "It would be great to have someone singing a Bee Gees song next to the new statue, the Manannan Song at the top of South Barrule, or maybe When I'm Cleaning Windows next to the George Formby statue!"
For more information, contact Chloe: manxmusic@culturevannin.im or follow https://www.facebook.com/makemusicdayIOM
www.makemusicday.org
www.makemusicday.co.uk