MAY 2022 Manx music & dance newsletter
Wed, 04 May 2022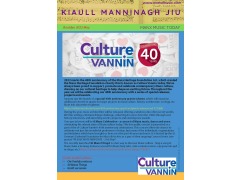 Welcome to your 'Boaldyn' (May) edition of Kiaull Manninagh Jiu - Manx Music Today!
KMJ May 2022.pdf (manxmusic.com)

This month, get involved in Culture Vannin's '40 Things' challenge, join us in the Cathedral for a wonderful concert of Manx music and dance, hear about the marvellous Guild results this week, read about Sir Edward Elgar's visit to the Isle of Man, celebrate the start of summer with Oie Voaldyn and Laa Voaldyn this bank holiday weekend and learn a song in Manx which tells the whole story. Plus much, much more!