Manx music tutorials for harp
Wed, 20 Oct 2021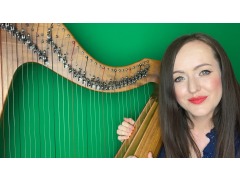 Culture Vannin are delighted to release a new series of four Manx harp video tutorials, presented by renowned Celtic harpist and teacher Rachel Hair. The tutorials are based on a set of Manx melodies selected by Rachel for her suite "Mannin Aboo!" and they include step-by-step lessons and freely downloadable sheet music for Arrane ny Niee, Auldyn River, Flitter Dance and Hop tu naa.
The Mannin Aboo! suite was premiered at the Edinburgh International Harp Festival in 2018 when Rachel oversaw over 100 harp players who gathered to perform it alongside her young Manx harp ensemble, "Claasagh". Rachel, who is based in Glasgow, arranged the suite to be accessible by all levels of players, from beginner to intermediate, and "Mannin Aboo", which translates as "Hooray for the Isle of Man", can either be performed as individual pieces by a solo harpist or altogether as part of a large harp ensemble.
Dr Chloë Woolley, Manx Music Development Officer for Culture Vannin said; "We are very fortunate to have Rachel Hair as our harp teacher, and these new tutorials will not only be useful for her Isle of Man students, but also for harpists around the world who are looking to explore Manx music".
Videos and sheet music
Arrane ny Niee sheet music – Traditional, arr. Rachel Hair
Auldyn River - Composed by Paul Cringle, arr. Rachel Hair
Flitter Dance - Traditional, arr. Rachel Hair
Hop-tu-Naa - Traditional, arr. Rachel Hair
More information about Culture Vannin's harp lessons.
More about Rachel Hair