RESEARCH - Leslie Stuart and the Isle of Man
Mon, 23 Aug 2021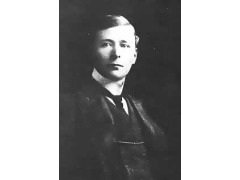 Leslie Stuart and the Isle of Man
by Maurice Powell
This is the third article in an occasional series about eminent composers of light music who visited the Isle of Man during the golden age of the tourist industry (the mid-1880s until the mid-1960s), a period during which also witnessed the rise in popularity of the genre known as British Light Music, from the age of Gilbert and Sullivan, the final years of Haydn Wood and Eric Coates, and the emergence of the younger generation of Ernest Tomlinson and Robert Farnon.*
* See also Valse Septembre, Felix Godin at the Villa Marina, and Frederick Curzon at the Villa Marina, manxmusic.com.
'As genuine as his music . . . a delightful raconteur and a charming companion'
The first reference in the Isle of Man newspapers to the master of Victorian and Edwardian musical comedy de jure Leslie Stuart,* or rather Mr T. A. Barrett, was in the Isle of Man Times of 23rd May 1885, when he was described as the 'highly creditable' solo pianist and accompanist in three popular vocal concerts at the Grand Music Hall, Victoria Street, Douglas, on Whit-Wednesday, Thursday and Friday.