Laa Jannoo Kiaull Make Music Day 2021
Wed, 12 May 2021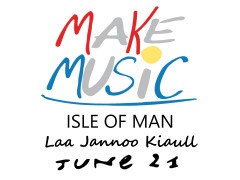 It is "Make Music Day" (or Laa Jannoo Kiaull in Manx Gaelic) on Monday the 21st June!
Every kind of musician — young and old, amateur and professional, and of every musical persuasion can mark this day simply by making and enjoying music. And for many of the 125 countries who take part annually, the ease of lockdown restrictions means it will be an extra special year. In Italy alone, 268 cities are set to welcome live music throughout the day and evening in the streets, castles and concert halls!
Whether you're a musician, a promoter, a venue, school or library or just want to see what the IOM music scene has to offer, get involved in Make Music Day 2021 and help make it the biggest and loudest event yet. It doesn't have to be a huge undertaking, it's just a party (however large or small), in celebration of music – what's not to love? Created locally, shared globally – connecting people to the world's largest DIY festival of music.
The spirit of Make Music Day:
1. Events are free to attend and take part in
2. It takes place on 21 June
3. And… it's about music!
You could organise a gig on your doorstep, balconies, rooftops; live-stream from sitting rooms; book the local bandstand, pitch up on pavilions, tune up in town squares, stand on street corners; host musicians in libraries, pub gardens, public bus, hotel receptions – wherever there is space to perform and make some noise on Monday 21 June. All scheduled events in the Isle of Man are welcome to be added onto the Make Music Day UK website and map: www.makemusicday.co.uk