Steady as She Goes: Manx Session Sets
Tue, 06 Oct 2020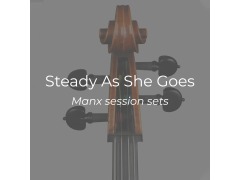 If you've always wanted to join in at a Manx music session or play along with the band at a Manx ceili, then there is now a handy new resource available from Culture Vannin.

Dubbed "Steady as she goes: Manx Session Sets", some of the most popular Manx tunes have been brought together in a collection of sets, along with audio demonstrations performed at a steady tempo.
Manx Music Development Officer, Dr Chloë Woolley, saw the opportunity to commission the recordings during the Covid-19 lockdown, and husband and wife duo David and Laura Rowles were tasked with performing the music on guitar and fiddle. Chloë said;
"David and Laura Rowles are well known music teachers on the Island, with years of experience playing Manx music, so they were ideally placed to record the tunes and songs for us. A lot of learners or newcomers to Manx music are shy of joining in with the sessions when the tunes are being played at full throttle, and so there was a call for an aid to learning tunes and practising at home. The chords are straightforward to follow and there is a whistle version with finger numbers available too".
Aimed at budding folk musicians of all ages, the sets are groups of tunes chosen to be easily played together. Popular Manx jigs and reels like Three Little Boats, Creg Willy Syl, Mylecharaine's March and Car Juan Nan are linked with slower airs such as Arrane ny Niee and Arrane y Chlean. There are also must-know session songs to sing along with, including Birlinn Ghorree Chrovan, Hunt the Wren and Hop tu Naa.
The sheet music and audio tracks can be accessed HERE
and the BandCamp album of recordings is here: