Mega Manx Ceili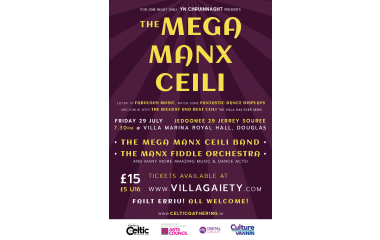 When: Fri, 29 Jul 2022
Time: 7.30pm
The Mega Manx Ceili!
Villa Marina, Douglas
Listen to fabulous music, watch some fantastic dance displays and join in with the biggest and best ceili the Villa has ever seen!
THE MEGA MANX CEILI BAND, THE MANX FIDDLE ORCHESTRA and many more amazing music & dance acts.
Failt erriu - All welcome!
Part of Yn Chruinnaght Celtic Gathering www.celticgathering.im Sponsored by the Isle of Man Arts Council and Digital Group IOM
More Information