Ruth Keggin Band - Mananan Festival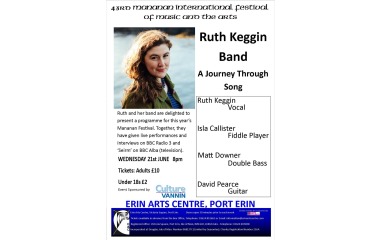 When: Wed, 21 Jun 2017
Time:
RUTH KEGGIN BAND at the Mananan Festival
Wednesday 21st June 2017
Ruth Keggin is a Manx Gaelic singer who is passionate about bringing Manx music and language to a wider audience. Her debut solo album, Sheear ('Westward'), which features traditional and contemporary Manx Gaelic songs, was released in February 2014 to critical acclaim. Her second solo album was released in summer 2016.
Ruth and her band have given live performances and interviews on BBC Radio 3, BBC Radio Wales and 'Seirm' on BBC Alba (television), and Ruth has also been a feature-presenter for, and sung on, the BBC 2 television programme 'Coast'.
​
www.ruthkeggin.com
Starts: 8pm
Tickets: £10 | Under 18s £2